At GUADEC 2017 in Manchester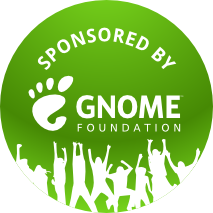 And not only I have participated in the Akademy 2017 conference but got to GUADEC 2017 all in the same week! And, god, I really loved it too because it's the first GUADEC I attend since The Hague in 2010 and I loved to meet again with old friends of the Hispanic community. Important to say I missed a lot of you, guys. Hope we'll fix this next year ;-)
I should acknowledge the travel sponsorship by the GNOME Foundation and the GNOME Hispano association. Without them I couldn't attend this year.
And the main reason to travel to Manchester has been the announcement of the hosting city for GUADEC 2018: Almería. We competed againts the city of Lyon leaded by the hacker extraordinaire Bastien Nocera but finally the GNOME board honored us with the privilege. We put a lot of work on the Almería candicacy but haven't been easy to compete with the Lyon bid. And thanks to Bastien and team too for their commitment too.
At Manchester's GUADEC
Organization team had made a greeeat work of love with everything I'm aware. The venue and the dormitory were really very good. The spaces for workshops ideal too. The number of audience attendees this year has beaten the record of the last editions and the quality of speakers at the best level you could expect.
To point some defect just say the dormitory mattresses were not as good as the rest of the facilities ;-)
About conference contents, trying to remark something, to me has been:
GNOME 20th birthday
Yeah, 20 years since GNOME was founded:
20 years of GNOME #GUADEC2017 pic.twitter.com/HfSRVmlJzm

— Ismael Olea 𐇔 (@olea) July 29, 2017
(and by the way, seems this has been my most popular tweet ever!)
And Jonathan Bladford delighted us with a retrospective of all these years:
I gave a talk on the History of @GNOME for #GUADEC2017. The slides can be seen here:https://t.co/HJWOO5dDry pic.twitter.com/V9dXH4Gkqz

— @blandford@mastodon.cloud (@blandford) July 29, 2017
And we had not only a 20 years party but the celebration of founder Federico Mena's birthday, so he made the honours cuting the celebration cake:
Happy birthday to you too @federicomena!! #GUADEC #GUADEC2017 pic.twitter.com/y02xKCk61E

— Mario Sanchez Prada (@mariospr) July 29, 2017
And yes, Miguel, we missed you too :-)
Flatpak
To me this has been the Flatpak conference. Most of my Linux experience has been related to software packaging and distro integration but didn't have the time to deep into Flatpak use and at Manchester had the oportunity to dedicate time to learn about the future of opensource packaging:
Hi mom! I made my first @FlatpakApps! #GUADEC2017 pic.twitter.com/vfHucdNISO

— Ismael Olea 𐇔 (@olea) July 31, 2017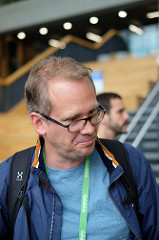 And at the workshops session Flatpak leader Alex Larsson among others guided us in our first steps on this technology. To me was the continuation of Aleix Pol flatpak masterclass at Akademy 2017.
About my interest in Flatpak, my main goal is migrating the packaging I "keep" at Fedora of the great OmegaT translation memory tool (see OmegaT) to flatpak and, probably, publishing at the Flathub application store. The main reason to me is I can't find the time to fullfill all the Fedora package requirements with all the dependencies OmegaT needs. To me it's a personal experiment I hope to finish before the end of the summer both to get familiar with Flatpak and to retake my modest commitment to OmegaT project.
Stickers
Yeah: I brought to Almería dozens and dozens of GNOME stickers:
Some #GUADEC2017 stickers going to Almería pic.twitter.com/poaGdWtMRy

— Ismael Olea 𐇔 (@olea) August 2, 2017
I'll be sharing all of them in the comming HackLab Almería meetings.
GUADEC 2018
And my personal most emotive moment was the announcement of the city hosting next GUADEC 2018:
Citing @guadec and @gnome "and GUADEC 2018 is in… Almería!" #GUADEC2017 pic.twitter.com/veb4HZnl1P

— Ismael Olea 𐇔 (@olea) July 31, 2017
We are very grateful to the GNOME board and community for their trust. We are confident we'll provide a nice Almería experience :-)
Conclusion
It has been a great conference. For many of the attendants have been their best GUADEC in many years. And I don't doubt about this :-)
If you want to check pictures:
So GUADEC, «we must say Adios! until we see Almeria once again»:
\o/
PD: just added the reference to the GUADEC 2018 announcement.